Healy Sisters


Vital statistics
Title
Healy Sisters, Ella, Claire, Chloe and Leah Healy, Four Sisters
Gender
Females
Film
Tangled (2010), Tangled Ever After (2010), Tangled: Before Ever After (cameo)
TV Shows
N/A
Video Game
N/A
Status
Alive
Alignment
Good
Hair Color
Red
Eye Color
Brown
Family
Each Other
Friends/Allies
Rapunzel Corona, Flynn Rider, Maximus, Pascal
Neutral
N/A
Rivals
N/A
Enemies
N/A
Likes
Flowers, animals, braiding hair
Dislikes
N/A
The
Healy Sisters
(
Ella
,
Claire
,
Chloe
and
Leah
) are a group of four sisters and minor characters from the 2010 animated film,
Tangled
. They have a love of braiding each other's hair.
Appearance
Edit
Each of the four girls wear the same thing: light yellow tops with three copper buttons running down the middle, a black band in the middle and long light brown skirt covered in faded leopard-like spots. They also have red hair that is braided, courtesy of how much they do it to each other.
Personality
Edit
While not much of their personality is known, they express themselves in an innocent, friendly way. They were quite enthusiastic to have an opportunity at braiding Rapunzel's hair after see how much there was of it, and were quite admirable of their work when they looked at the results. The sisters are also shown having fun feeding Pascal, suggesting that they have a fondness for animals.
Powers and Abilities
Edit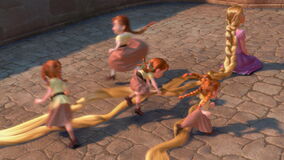 As regular human beings, the sisters have no magical powers whatsoever. However they do show to have a talent for hair braiding, as they did each others and Rapunzel's to make it easier for her to walk around the kingdom without people standing on it, along with making it beautiful.
Role in the Crossover
Edit
Because of the minor role they play in the film, the Healy Sisters may not get as much development as other characters. If writers were to give them focus in any way, it would most likely be limited to the number of children who believe in the Guardians and give them strength in their beliefs.
Relationships
Edit