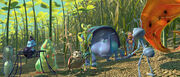 "Circus bugs?! How can you be circus bugs?!"
—Flik, finding out that the warrior bugs aren't who he thought they were
The Circus Bugs are a group of bugs who are trained to be circus performers, but mistaken as warrior bugs by Flik in the film A Bug's Life. Flik first sees them in the city doing a Robin Hood act, believing them to be warriors, and then convinces them to come to Ant Island to help him with his "bug problem."
Princess Atta: "You mean you're not warriors?"
P.T. Flea: "Are you kidding? These guys are the lousiest circus bugs you've ever seen, and they're gonna make me rich!"
—Princess Atta, shocked to learn the truth about the Circus Bugs from P.T. Flea
The circus bugs consist of:
Ad blocker interference detected!
Wikia is a free-to-use site that makes money from advertising. We have a modified experience for viewers using ad blockers

Wikia is not accessible if you've made further modifications. Remove the custom ad blocker rule(s) and the page will load as expected.